2020/2016 ︎ Back in Vienna – Body Adaptations in Public Spaces︎ Intervention︎Three large-format posters from a series of 9 photographs︎3 m x 4 m︎Portikus Museumsquartier, Vienna (AT)

---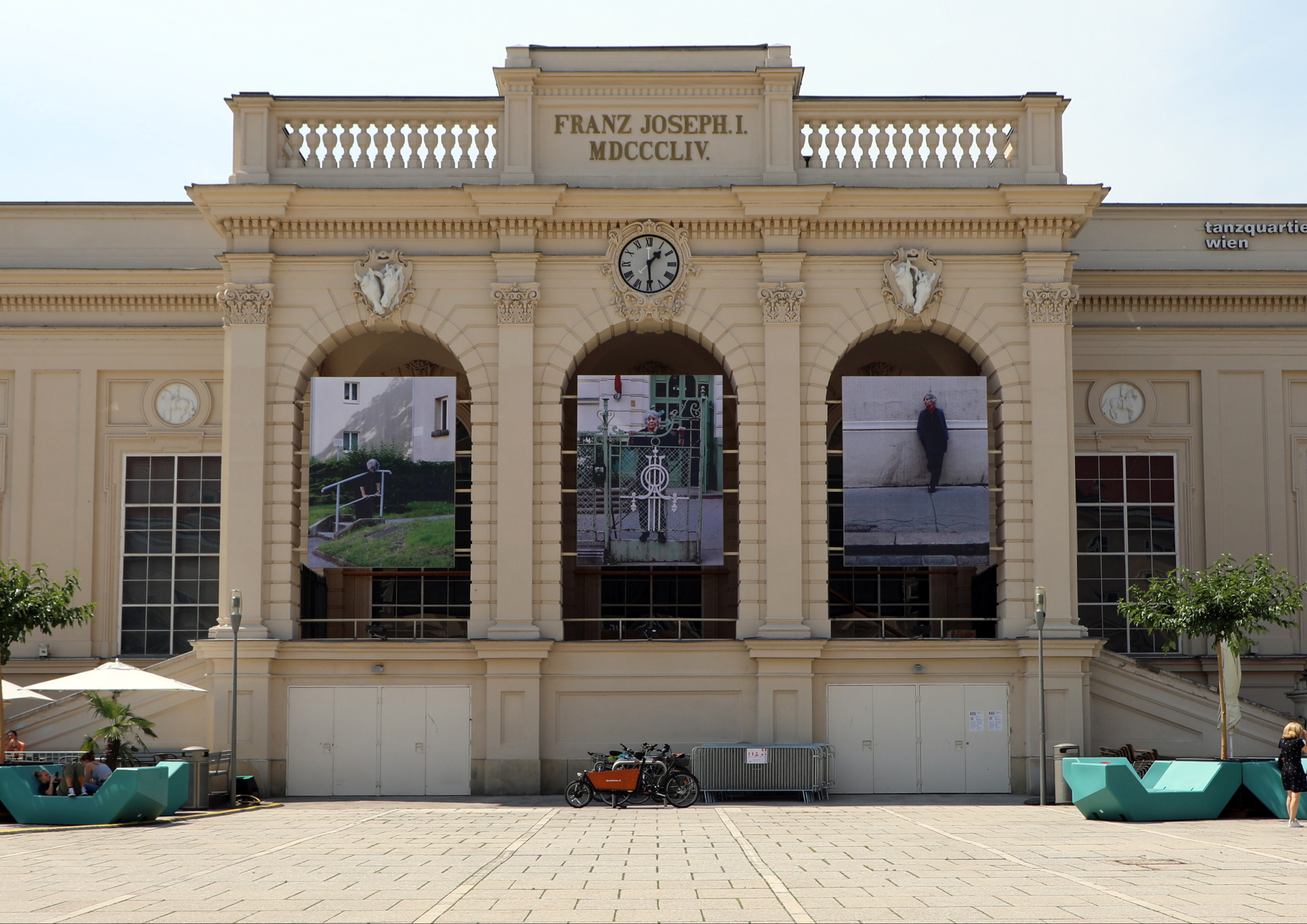 Back in Vienna – Body Adaptations in Public Spaces

Intervention, Portikus Museumsquartier, Vienna (AT)
Three large-format posters from a series of 9 photographs, 2016/2020
3 m x 4 m
The entire nine-part series was published as an artist's insert in Augustin, no. 509 (July 1, 2020), Ed. 22.000


BEING-IN-THE-WORLD AGAIN

Notes on Johanna Tinzl's photographic series by Anne Faucheret.

The steps leading to her daughter's coach.
Some woods on the heights of Vienna.
The wall of her daughter's integration school.
The staircase of the house where her friend lived.
An ornamental statue in the next park near her apartment.
The elementary school where she used to go as a young girl before her escape.
The balcony and window of her father's house.
The threshold of her current home.
The façade of the building, in the city center, where her husband had worked.

These are places where Helga Pollak-Kinsky goes back to.

Born in Vienna in 1930 to Jewish parents, Helga Pollak-Kinsky survived Theresienstadt and Auschwitz. After 1945, she first lived in London, then in Bangkok and Addis Abeba, before returning in 1957 to her birthplace where her father, the former owner of the popularTanzcafé Palmhofin the Mariahilferstrasse still lived. Post-war Vienna was filled with dread creeping into bodies and architecture, into movements and words. Public space was not the safe space that the young second republic promised. Past crimes were not punished, or too little, Nazi leaders and collaborators were reintegrated into the political system, Holocaust survivors were marginalized and unheard, memory work remained undone.

In these pages you will first see the figure of an aged woman, belonging to a scandalously invisibilized – and recently endangered – generation, standing, living and laughing. She shows aging as »being-in-the-world« and not as the abject solitude capitalist economies have made it. In 1970, feminist philosopher Simone de Beauvoir, in The Coming of Age condemned institutionalised necropolitics of the elderly through abandonment, invisibilisation, and segregation, inexorably leading to decay, dementia, and death without anybody noticing. Against it, she pleaded for a complete intellectual change, a reintegration of the elderly in the civil contract and the reassertion of the living-together against individuality. In this civil contract, the constant re-reading, re-contextualising and re-interpreting of his(her)stories would be an artistic and public affair.

Johanna Tinzl created the photographic series Back in Vienna – Body Adaptationsin 2016. The series consist of nine photographic portraits of Helga Pollak-Kinsky composed and realized after a year and a half long process. Helga Pollak-Kinsky chose nine locations in the city of Vienna. Places where she used to go, spend some time or regularly visit. Significant places associated with specific decisions, with peculiar relations, painful or empowering emotions, sad or joyful memories.

Together with the artist, Helga Pollak-Kinsky went back to these chosen places and performed re-encounter rituals. Creating gestures and postures inspired by VALIE EXPORT'S photographic series Body Configurations (1972-76) – which were reclaiming presence and representation for the female body in the urban public space and in the society in general – Helga Pollak-Kinsky re-negotiated her relation to »her own« places as a woman and as a survivor to surpass estrangement. Diving in her memories, she re-enacted poses, translated strong feelings into gestures or adapted her body to the surrounding. Significantly, her bodily adaptions seem to have a double take: she takes care of herself the same way she takes care of the places where she acts, reactivating their memories as well.

Today when the notion of public space is being radically transformed after weeks of confinement in private spaces (for those who could afford it), it is crucial to reclaim public space as a forum for social exchange and cultural expression. For whom is public space a safe space, for whom is it dangerous? For whom is it a space of freedom, for whom is it a space of normalization and restriction? Who is represented in public space, and who is erased from it? Which stories and figures are told and circulated, which ones are estranged, simplified, marginalized, hidden?

Recently it seems that fear was everywhere, multifaceted and solid. But the community of fear cannot take the place of a political community. Hence the need to overcome it, or at least to deconstruct it. This is what Helga Pollak-Kinsky actively undertook for decades after her return to Vienna in 1957, the town she had to leave in 1938.

In 2016, almost half a century later, when Johanna Tinzl's project was realized, Helga Pollak-Kinsky, approaching her 90th birthday, was able to affirm that fear finally left her.

Sadly, Helga Pollak-Kinsky passed away on November 14, 2020. (Addendum)